Typically, ranking anything in a search engine isn't easy. So, I wanted to find out if I could boost a video to the first page of results within a day on a channel with no previous views, subscribers, or videos. Sounds impossible, right? Well, here's what I discovered in my case study of how to easily rank your YouTube video.
The Study Begins
Before you do anything, develop a plan. Think about what you want your niche to be, what type of video do you want to rank, and do a little bit of keyword research.
After searching around on my computer, I found an old Assassin's Creed walkthrough that I had made a while back for my gaming channel.
I did a quick search on YouTube, and not surprisingly there was a decent amount of competition, a lot of which was from established channels. Keep in mind that the channel I used was brand new with NO subscribers, previous videos, or views.
I set to work uploading. I decided I wanted to rank for "Assassin's Creed Black Flag Walkthrough Part 1".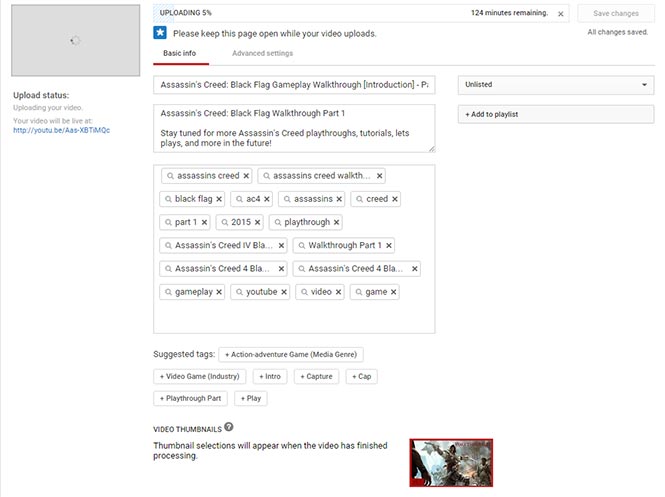 I went ahead and thought out a good title that contained the keyword I was wanting to rank for. I didn't put too many tags in, but they too contained what I wanted to rank for.
Lastly, I put in a short (but crappy) description that yet again contained the keyword I was trying to rank for, and threw in an old (again crappy) thumbnail to go along with it.
Notice how I set the video to be "unlisted" after it's done? Keep note of that. Incase you don't know, doing that results in only people with the link to your video being able to see it.
Start The Blackhat
After the video was done uploading, I headed over to Blackhat World in search of a program to boost any video to the "301+ views" view count.
After successfully finding what I needed, I boosted my video to 301+, and set to work getting some likes and dislikes on the video to make it seem more human like through a service called "AddMeFast" (Blackhat World has an automation script for this too). I also threw a few comments in there to spruce things up a bit.
After all this was done, I waited around 24 hours and then set the video to public.
So, the video now has 301+ views, 80+ likes, some comments, and has been released to the public. All I could do from here was sit back and hope for the best!
I waited for an hour or so, and started to search around using different keyword combinations. Here's 1 of a couple results I found:
It worked! The video had been set to public for just over an hour, and in this search there's over 60,300 results, meaning that I'm competing to rank against over 60 THOUSAND other creators. With that said, my video was successfully ranked in the second position, being beat only by a video with over 5 million views and that's over a year old.
Wrapping Things Up
I really hope you learned something from this, and obviously feel free to use the method yourself! But remember: do this at your own risk. You can find the programs by browsing around on Blackhat World, or by subscribing to my email list where you'll be able to download it from the Thank You page.